July 12, 2014 is most likely the strangest day I've lived through in my 23 years of existence.

Honestly.
King William
Before I recount the occurrences of the day, a brief history lesson is in order.

Think back to your World History classes, friends. Remember the Glorious Revolution?

Protestant William and Mary of Orange took the English throne from James II, a Catholic King?

Well, that throne also ruled over Scotland and Ireland.
But, there was a little problem with William III, a Protestant King, ruling over a place like Ireland.

Ireland was (and still is) primarily a Roman Catholic nation.

So, obviously, they would prefer a Catholic King.
The folks supporting a Stuart reign (James was a Stuart) were called Jacobites.

But, their origin is another story.
Anyway, although Ireland was mostly Catholic, Ulster, the province in which the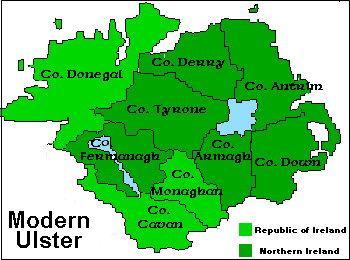 Ulster

entirety of Northern Ireland resides was (is) primarily Protestant.
Whoa, man, talk about a conflict of interest.
How could King William stand for rebellion from his subjects?

That's right.

He couldn't.

He got into his ship and headed over to Ireland to quiet everyone down.

But where would he land?

Yes, friends, in Protestant Ulster.

So, the story goes that people lit bonfires in the hills of Counties Antrim and Down to guide his ships through Belfast Loch.

And he landed somewhere in Carrickfergus.

That's why people burn big 'ol bonfires on the 11th night.
Meanwhile, the 12th commemorates the battle of Aughrim, which was the decisive battle of the Williamite-Jacobite War fought on July 12, 1691 (although other sources say that it commemorates the Battle of the Boyne in 1690).
As a result, every year on July 12, the Orange Order and friends march to commemorate "King Billy's'" victory.

Of course, the Catholic community finds these demonstrations to be a wee bit antagonistic.

After all, the entire story reeks of sectarianism.

And, in a country

divided along religious lines, it's easy to see how such events can turn ugly.

Thankfully, this year's holiday was the most peaceful in recent history.
Fancy plumes, huh?
Armed with the knowledge that I just condensed into the above paragraphs, there was no way I could miss witnessing this spectacle while living in Northern Ireland.

Sarah, of course, had the same thoughts.

After all, we're here for an educational experience.
And so, on the morning of the 12th, we headed into town with the scent of the previous night's bonfires lightly clinging to the air.

Fortunately, it rained in the night, so the smell wasn't overwhelming.

The walk up was eerie.

There were no cars or people about in our neighborhood.

I suppose South Belfast doesn't care to participate in anything related to the day.

For that, I am thankful.

It wasn't until we got closer to City Centre did we see people.
Oh, boy.

Groups were beginning to line the parade route.

Street vendors sold food and Union Jack paraphernalia.

Children beat on little drums and twirled batons while their parents stood by, chatting with friends.

Others smoked and took long drinks from their cheap booze.

All of this before 10am.
We settled in to watch at Donegal Place, which in retrospect, was probably entirely too close to "Loyalist Sandy Row."

The parade reached us around 10:30 or so, and it went on forever.

Thousands of men, women and children proudly marched through the street playing drums, flutes and accordions.

Some came from as far away as Australia just to march the streets of Belfast.
It was strange standing there in the midst of it.

I've never felt like more of an outsider.

The people marching stopped to wave and shake hands with people in the crowd.

They were all friendly with one another.

It was like some sort of crazy reunion that I'd somehow stumbled into.

Everyone knew the words to the tunes the bands played by heart, and they sang from their hearts.
But, the weight of Northern Ireland's entire ugly history was heavy in the air.

It was suffocating.

If I wasn't crushed by the sheer volume of that hanging over my head then surely my own discomfort at practically participating (even as an observer) would have strangled me, like a noose around my neck. It was a rough, conflicting feeling to say the least.
They marched on for a small eternity before Sarah and I decided to move into City Centre.

There was a gourmet food market going on at City Hall, and we'd been standing for entirely too long.

Unlike American parades, the only variety in the whole thing came from the banners each individual group was carrying.

And, as I laughingly observed, not a single piece of candy was thrown.
By the time we finished our lunch and shopped for a brief moment.

The masses were finally beginning to clear.

And so, it was over, right?
The aftermath was post-apocalyptic. Half-eaten food and broken beer bottles
covered the streets and walkways in obscene proportions.

Cars trying to make their way through the area crunched over glass bottles and general rubbish.

The transformation was so quick.

The streets lined with thousands of people cleared out so soon and left nothing but carnage behind.

It was like going from blissfully drunk to woefully hung-over in a matter of minutes.

The scent of a thousand cigarettes mixed with food waste, alcohol and various bodily fluids all mixed together to make for a nauseating cocktail of odors.

It was quite the walk home avoiding food, puddles of vomit and the occasional urine.
No, I'm not making this up.
I do believe that I've experienced enough culture to last me the next few years easily.

It was the quintessential train wreck—painful to watch, but impossible to look away.

It was something that I had to see but sincerely wished that I hadn't.
Like I said, it was a bizarre day.